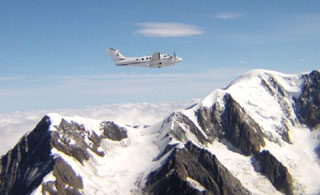 Australian 'Sunday Driver' realises his dream by flying around the world in his own aircraft.

Peter Moore of Campbelltown, NSW, still lives close to where he grew up, near Sydney's Bankstown Airport. As a child, he marvelled at the flying machines which took off over his family's garden and dreamed of doing that himself. In 2005 he made that dream come true - and some - when, along with some friends, he flew a light plane out of Bankstown and circled the Earth before coming home.

As a young man Peter gained his pilot's licence and doing so, became acquainted with Jim Hazelton, a flying instructor and professional ferry pilot. Another well-experienced pilot, Don McBean, was introduced to Peter's dreams when they discussed flying to exotic places like, Samoa and Easter Island as a way of getting to South America.

By the time they took off Geoff Hazelton, a retired aircraft engineer had joined the team and was thrilled to witness a space shuttle taking off from Cape Canaveral but all on board knew they were headed for the EAA fly-in in Wisconsin: Oshkosh as it is known, is far and away the biggest air show in the sky and on the earth because the Australians' Beechcraft King Air was just one among thousands parked thereabouts for the last week in July.

South Australian cameraman, Keith Bushnell, recorded the team's adventures and from a second aircraft, filmed 'VH-HPX' air-to-air, circling over Niagara Falls. From Canada via Greenland, Iceland and the UK fair winds took them to the Zeppelin Air ship works in Germany. They crossed the Mediterranean visiting Crete's ancient ruins of Knossos then Egypt's pyramids but only for as long as it took to rest and refuel because there were more oceans to cross. Unexpectedly strong headwinds could have stopped them over the Indian Ocean but they managed to reach The Maldives on the way to Sri Lanka.

Mostly, their pressurised airplane allowed them to fly above the world's weather and there were remarkably few mechanical worries. They had some luck but it also took some nerve: not least when [ex-motor-trader] Peter Moore decided to buy the aeroplane hoping that, like automobiles, an expensive one should be easier to sell when you get back!

"It's just like motor cars", Peter says, "only, bigger numbers."

If you're dreaming of doing anything like this yourself – or know a Sunday-pilot with such ambition – you'd do well to get yourself a copy of the DVD by contacting….
Peter Moore
pmo57355@bigpond.net.au