This site is a register of pilots who have flown around the world in light aircraft (*). It records the pilots and their aircraft in chronological order, and aims to inspire others who have similar flying dreams.
(*) Maximum weight 7000 kg.

Noticeboard:
November 23, 2014
Thom Kane and Veronica Baird visitng Bob Bates in New Guinea.
Larger picture
November 17, 2014
Thom Kane and Veronica Baird on their second RTW are visiting Bill and Jennifer Finlen in Brisbane.
Larger photo
http://www.travelpod.com/travel-blog-entries/n6tk/1/1407190289/tpod.html
October 13, 2014
From Matevz Lenarcic:
I would just like to inform that a book about my 2012/13 RTW and North Pole "Over the Blue Planet" in Pipistrel Virus ultralight is in the bookstores in Slovene, English and German version.
.
Full details on the Books Page
October 7, 2014
Chris Elgar (RTW 2014) is selling his Turtle Pack ferry tank.
Larger photo and full details
October 3, 2014
Sincere congratulations to Trevor Laundy for the successful completion of the part 2 of his RTW. He landed at Peterborough UK (EGSF) coming from Santa Maria, Azores (LPAZ).
October 2, 2014
Geraldine "Jerrie" Mock, the first woman to fly solo around the globe, has died in her sleep at her home in Quincy in northern Florida.
Read "The Colombus Disparch's" .obituary
Our most sincere condolences to her family and thanks to Thom Kane for giving us the sad news.
Geraldine's C180
September 27, 2014
At the end of a long Oz odyssey, Bob Bates and Sergey Terekhin arrived in Northam (YNTM), Western Australia to visit Claude Meunier and park Bob's C182 (P2-HPC) in Claude's hangar for a few months.
Larger photo
Bob's blog
Sergey also had photos of the late Hans Gutmann's monument in Northern Italy.
Photos
September 19, 2014
Mike Condon,
"spotter extraordinay".
, from New Zealand
(http://www.mrcaviation.blogspot.com)
has created 2 new blogs:
http://www.mrcaviation.blogspot.co.nz/2014/09/earthrounders-revisited.htm
and
http://www.mrcaviation.blogspot.co.nz/2014/09/there-and-back-again.htm
September 19, 2014
From Trevor Laundy in New Zealand:
After a gap of five months waiting for the overhauled engines to be fitted, the aircraft was airworthy again on the 23 August. Now expect to resume RTW part2 on the 19th September - initial routing Auckland ex NZ, Pago Pago, Christmas Island, Hawaii and then Southern California.
Note: Trevor left EGSF (UK) in March 2013 in his Twin Comanche PA30C, D-GPEZ for a 2 part RTW.
Larger photo
Photo Wayne Grant, curtesy:Mike Condon:
www.mrcaviation.blogspot.com
September 16, 2014
After several months of consultation and several hundred emails exchanged across the vast world, it was decided to hold the next Earthrounders Meeting in Thailand at the gracious invitation of Norm, Lec and young Isaiah Livingstone.
Details of the time and of the venue for the meeting are still to be worked out. We shall publish them as soon as they are available.
The entire Earthrounders community would like to thank the Livingstone family for their invitation and we all look forward at our first Meeting in Asia.
September 9, 2014
From Mike Condon in New Zealand:
"
Robinson R66's RA-06345 and RA-06360 are set to leave Russia later this month on a mammoth trip which is to include Australia and New Zealand.
"
Thank you Mike.
The pilots are: Evgeny Kabanov, Igor Rudoy, Alexander Kurylev and Alexey Murashov
Details from Helihub.com
and on FaceBook
August 29, 2014
Thom Kane and Veronica Baird are on their second world flight with N6TK. They are now in Japan.
http://www.travelpod.com/z/n6tk/1/1407190289
August 25, 2014
Richard Cook is selling Frank Haile's last set of 100 gal tip tanks, email Richard for information and pricing.
NOTE: Only the tip tanks are for sale!! The aircraft has already been sold!!
RichardKCook@me.com
Larger picture
August 17, 2014
Heinz Peier sends this photo of his SX 500 at Lord Howe Island. He is now in New Zealand continuing his RTW.
Larger photo
August 15, 2014
Earthrounders photos at the Oshkosh AirVenture are finally trickeling in... Thank you to Doug Jefferey for this one. Please keep sending'm...
Larger photo
August 10, 2014
Happy 90th Birthday Wayne Collins!!
Wayne was born in Mineola, Texas on August 10, 1924.....
,
read more of Wayne wonderful life on the Site created by Cristle Collins Judd:
https://sites.google.com/site/waynecollins87th/
July 29, 2014
We are happy to announce that Paul Moyle, who had an unfortunate mishap in Nuuk (Greenland) shortly before completing a RTW flight on 2008, has returned to Nuuk and subsequently completed the circuit. He has sent us this touching message: "My round the world challenge was completed yesterday in Bristol at 1230, I must say it is probably the most satisfying day in my life. To have completed this challenge has had me pulling my hair out (not that I have much left) at times but the sense of relief of having become an Earthrounder is palpable!!"
Well done, Paul, for never giving up!
Larger picture
July 24, 2014
From Douglas Cairns:
"I'll be giving a "flying With Diabetes" Forum at Oshkosh this coming Monday, 28th July at 4:00 p.m. (Forum 5 venue)"
Please pass the word around.
July 14, 2014
Congratulations to Matt Guthmiller for the successful completion of his RTW. He had left El Cajon CA on May 31, 2014 and subject to confirmation, he is the youngest solo pilot around the World being 19 years, 7 months and 15 days. Previous youngest solo pilot was Ryan Campbell at 19 years, 7 months and 25 days of age.
Limitless-Horizons.org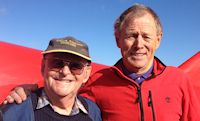 July 7, 2014
Heinz Peier at the start of his Australian Odyssey has visited Earthrounder Claude Meunier in Northam (YNTM) in Western Australia with his beautiful SX-300.
More pictures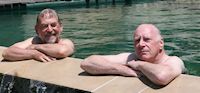 June 25, 2014
Mini Earthrounders meeting at "HB" where Angela and Flemming and "
HoneyMooney
" live.
Rodney Blois (UK) came to visit the Pedersens in his C172 in between the Guernsey Rally (where he won first prize) and the Cognac Rally (where he won 2nd prize). First prize is the participant's weight in Cognac!.
They discussed options for the next Earthrounders meeting in 2016.
More pictures
June 20, 2014
FUEL AT ADAK
From Wolf Shroen:
We still have 5 x 55-gal drums of Avgas for sale in Adak. Any interested parties can email me at "wolf_schroen(at)hotmail.com"
.
June 19, 2014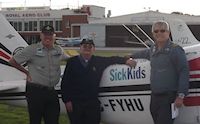 David McElroy and Chris Elgar on their way around the World, stopped in Jandakot (YPJT) in Western Australia. They were met at the Royal Aero Ckub of Western Australia by Claude Meunier. They presented a letter from the Mayor of Perth (Scotland) to the Mayor of Perth ( Western Australia).
Their flight is in support of Toronto's SickKids Hospital Foundation and Scotland's Charity Air Ambulance.
http://www.flyrtw80.com/
Facebook FlyRTW80
Twitter @FlyRTW80
Larger picture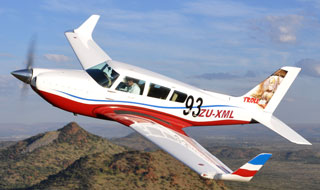 June 17, 2014
Congratulations to Calle Hedberg for the successful completion of his Westward RTW in "Troll Air", a Ravin 500, ZU-XML. He landed in Cape Town on June 1st, 2014, after flying 385 hours and 54,500NM over nearly 10 months
www.avcom.co.za
(---> General aviation chatter ---> Troll Air Round The World: 1+2+3+4+1000+ZOOOOM)
Larger picture