My trip around the World.... in a Mooney M20J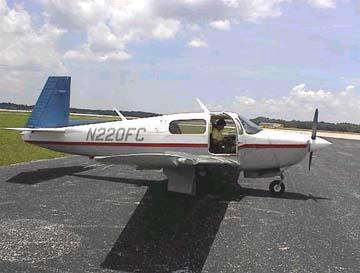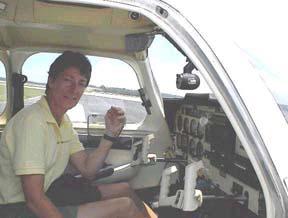 Carol Ann Garratt in her Mooney on the ramp in Lakeland, Florida
31,643 nautical miles (before side trips). 226 flying hours. 7 months duration.
36,667 miles completed & 360 hours (with side trips), 7.4 months complete. What an experience!
Home sweet home ......
Last Chapter:
As this trip draws to a close, I have to say what a fantastic adventure it has been. People all around the world have been most open, friendly, and helpful. They, more than anything else, have made this a most positive overall adventure. It is with some sadness that I approach Florida and close the loop. The seven months have been full of excitement, new countries, new people who have turned into friends, and challenging flying. Every day has brought it's weather problems or plane/engine issues or other exciting challenges. Each country has had its rules to learn and its methods for getting a weather briefing and filing a flight plan. It sure is nice and easy now to just dial 1-800-wx-brief!!
Everyone is asking, "What will you do next?" I don't know. I have to get an annual done on my Mooney in December, make presentations, and fly Young Eagles and Angel Flights. I'll be volunteering on the flight lines at Sun 'N Fun and Air Venture, Oshkosh '04 and hopefully making presentations at each of those fly-ins. Beyond that, I haven't made any definite plans.
Every time I look at a globe or look at pictures while preparing the presentations, memories come flooding back -- what an adventure, what stories. But then, when I'm chopping trees and food shopping, life seems like normal and it's as if the trip never happened. Then I look at a globe again..... and the memories come flooding back....
Now in Florida, after a wonderful welcome by the Kissimmee controllers, friends, reporters and others following the adventure, I can see that life isn't going to get back to normal any time soon. I've been invited to lunches, fly-ins, and to talk with numerous groups, schools, and EAA chapters. Of course this is exactly what I wanted to do, so I'm working on completing this web page, starting to put presentations together, and I'm writing a book about my adventure. It looks like life isn't going to slow down.... but then I wouldn't want it to.
"I can do that!!" Again??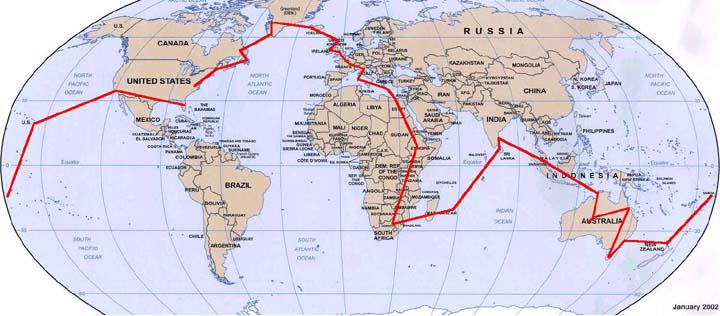 Map of the World, with planned route indicated
The following links will be updated as the flight progresses. Each section contains the current planning for that leg.
Preparation Sept 2002 to February 2003

Leg 1 Across the US to California 28 February 2003, updated

Leg 2 Ocean crossing to Hawaii early March 2003, updated

Leg 3 Ocean crossing to Samoa March 2003, updated

Leg 4 Ocean crossing and flying in New Zealand March 2003, updated

Leg 5 Crossing and flying in Australia April 2003, updated

Legs 6 - 9 Multiple jumps: to Singapore, Seychelles, South Africa May 2003, updated

Legs 10 - 12 Multiple jumps: to Ethiopia, Egypt, Greece June 2003, updated

Leg 13 Greece to France, England to Scotland June - August 2003, updated, August 14th

Legs 14 - 16 Scotland to Iceland, Iceland to Greenland, Greenland to Canada mid August 2003, updated August 25th

Leg 17 Final flight home September - October 2003, updated Oct 16th

About the Pilot

About the Plane

Overview of flight statistics, updated August 25th
---
Dedication:
This trip is dedicated to my mother, Marie Garratt, who died on April 24, 2002 after a 3 year battle with Lou Gehrig's disease.
Lou Gehrig's disease, or ALS, Amyotrophic Lateral Sclerosis, is a chronic, progressive disease marked by gradual degeneration of the nerve cells in the central nervous system that control voluntary muscle movement. The disorder causes muscle weakness and atrophy; symptoms commonly appear in middle to late adulthood, with death in two to five years. The cause is unknown, and there is no known cure. Most people who develop ALS are between 40 and 70 and it is 20% more common in men than in women. My mother was diagnosed at age 76. Sarah, an ALS patient who corresponded with my mother by email and who I met in London, England, was diagnosed in her late 20s when she was pregnant with her second baby.
ALS is one of the most devastating disorders that affects the function of nerves and muscles. Based on US population studies, a little over 5,600 people in the US are diagnosed with ALS each year. That's 15 new cases each day. It is estimated that as many as 30,000 Americans have the disease at any given time. Worldwide, over 300 new cases are identified daily.
To learn more about ALS please go to the ALS Foundation web site and the ALS web site.
To donate to research and, hopefully, treatment of ALS, please visit the donation web site.
In England the disease is known as Motor Neurone Disease or MND. The joint web site with the US and international ALS is www.alsmndalliance.org and for European Donations, please see www.alsmndalliance.org/pdfs/Friends.doc. Thank you in advance for your donations to help fight this destructive illness.
The Mission of this flight:
1. Increase awareness about ALS and raise contributions to fight the disease.
2. Introduce aviation to youngsters in other countries between the ages of 7 and 17 through the Young Eagles Program.
3. Enjoy one of the greatest adventures of my life!
If you have a youngster, between 7 and 17 years old, who is interested in aviation and you see from the map that I will be visiting your country, please email me and I'll try to stop by to give him or her a flight.
---
Home / Dedication and Mission / Preparation / Across the US to California / First ocean crossing to Hawaii /
Ocean crossing to Samoa / Ocean crossing and flying in New Zealand / Crossing and flying in Australia /
Multiple jumps: Singapore to South Africa / Multiple Jumps: South Africa to Greece / Europe /
Crossing the North Atlantic / Last leg home / About the pilot / About the plane / Supporters /
Overview / Women / Kids / FAQ / Lessons Learned / Family and Friends /
Flight reports: FL to CA / CA to HI / in Hawaii / HI to Am Samoa / Am Samoa to NZ / in NZ / NZ to AU / in AU / in AU2
AU to Singapore / Singapore to India / India to Seychelles / Seychelles to S.Africa / in South Africa / Zambia to Ethiopia /
Djibouti to Greece / Greece to France / England, Ireland, Scotland / to Iceland / to Greenland / to Canada / last legs home
I'm happy to hear from you, please email me at cagarratt@gmail.com any ideas, suggestions or flight tips. Thanks.
If you are looking for the trip to Alaska web page, July 2001, click here.