Earlier Notices (2015)
Earlier Notices (2014)
Earlier Notices (2013)
Earlier Notices (2012)
Earlier Notices (2011)
Earlier Notices (2010)
Earlier Notices (2009)
Earlier Notices (2008)
Earlier Notices (2007)
Earlier Notices (2006)
Earlier Notices (2005)
Earlier Notices (2003)
Earlier Notices (2002)
Earlier Notices (2001)
December 26, 2004
: Announcing a new book:
Upon Silver Wings; Global Adventure in a Small Plane
is a new book by CarolAnn Garratt, Earthrounder in 2003 in a Mooney M20J. This book tells the story of her 7 month journey to 23 countries and traveling 36,667 nautical miles. Be the co-pilot with CarolAnn, seeing and hearing all the adventures, as she and her Mooney take 12 to 15-hour flight legs across the Pacific and Indian Oceans.
100% of book revenue goes to researching a cure for ALS/MND/Lou Gehrig's disease.
To order on-line:
http://www.als.net/join/donatenow.asp
, $20.00 donation plus shipping. Or, call ALS at 1-617-441-7200. Thank you for your donation.

December 24, 2004
:
Earthrounders.com
wishes a Happy Christmas to all Earthrounders, their families and friends. We hope you are putting Mexico City on the agenda for November 2005. See you there!

November 4, 2004
: Please check the provisional program for the 2005 Earthrounders Meeting in Mexico.
Click here for the program
October 28, 2004
: Fellow Earthrounder Steve Fossett, a tireless breaker of records in all modes of transport, has done it again. This time aboard a Zeppelin, setting a new speed record in an airship: 111.8 km/h in Friedrichshafen, Germany.
October 28, 2004
: Barry Jones, who set off from UK in April on an attempt to make the first circumnavigation in an autogyro, was defeated by Mother Nature in India. The aircraft will be shipped back to England.
Barry's site is:
http://www.globaleagle.co.uk
This record is now up for grabs. Any challengers?
August 28, 2004
:
Congratulations to Sherry, Larry Sietsma, the Red Bearon, Ms. Ellie who completed their 'Round the World flying adventure". They landed at Melbourne Fa at 1.30 PM.
http://www.lsietsma.com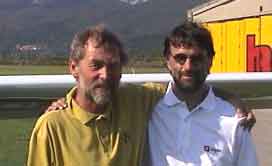 August 26, 2004
:
Congratulations to Matevz Lenarcic.
At 15:16 yesterday Wednesday 25 August, he arrived back home in Ajdovscina, Slovenia in his Pipistrel Sinus ultralight motor glider after a successful round the world flight.

http://www.rtvslo.si/protisoncu/index.php
http://www.wingsforever.com
Larger photo.
Earthrounder Flemming Pedersen flew to Ajdovscina, Slovenia to welcome him. More photos on Flemming's site:
http://honeymooney.com/Ajdovscina/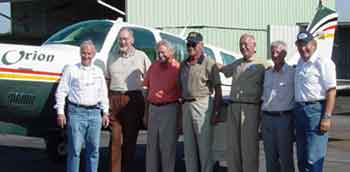 August 20, 2004
: Mini gathering of Earthrounders in San Diego.
Larger photo with names
August 18, 2004
:
Congratulations to Ed Galkin and Dick Sollner (C210) who have finished their RTW last Saturday 14 August. For both of them it is their second RTW.

http://aroundtheworldagain.com/
July 12, 2004
: Summer update!
After the tragic loss of his flying companion Alan Honeyborne, South African microlighter Ricky de Agrela has valiantly tackled the paperword (Chinese and Russian) to try to go it alone. However, the bureaucrats have won. The microlight is being shipped to the USA where he will resume flying.
In India, the monsoons have put a spanner in the works for Barry Jones in his gyrocopter. He has temporarily suspended f lying and plans to resume in August or September.
Hans Hofmaier, who valiantly flew the Americas on a shoestring in his Taylorcraft, has turned back from his RTW attempt due to the high costs of flying in Greenland - and more to come. In his own words: ¨I'll leave it to those with a bigger bank account or better organizing skills at raising money and sponsors.¨
June 24, 2004
:
Congratulations to Thomas Scherer who completed his RTW in his Europa N81EU on June 20.
http://www.thomas.scherer.com
June 18, 2004
: Slovenian Matevz Lenarcic left Slovenia on June 6 in his speedy and very fuel efficient Slovenia built ultralight motor glider Pipistrel Sinus 912 and is presently in Ulan Bator, Mongolia fighting Central Asian bureaucracy after having successfully crossed Ukraine and Kazakhstan...
http://www.rtvslo.si/protisoncu/index.php
http://www.wingsforever.com
June 8, 2004
: Larry and Sherry Sietsma have left Melbourne Florida on May 31on their RTW in their Baron N3399J, flying eastward.
http://www.LSietsma.com
May 30, 2004
: This is a truly sad day for Earthrounders. South African micro-lighter Alan Honeyborne suffered a fatal accident near the Chinese town of Changsha on 28th May. Our deepest sympathies to his family and to his fellow microlighter Ricky. Their wonderful flight and Alan's enthralling diaires have kept us following their heroic flight, marked by courage, determination and their special sense of humour that endeared them to everyone along their path.
http://www.safreedomflight.com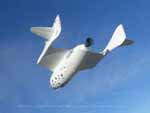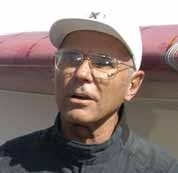 May 28, 2004
: Earthrounder Mike Melvill has been sky-high recently, pilotting the rocket ship SpaceShipOne (designed, of course, by Burt Rutan) to an altitude of 211,400 feet. He is aiming high after a $10 million prize challenge valid only till 1st Jan 2005. Anyone else game to try?
Photos courtesy
Scaled Composites.
Larger Photos
May 12, 2004
: Scott Cook, 45, of Bandon Ore. is planning to fly a twin-engine Beech UC-46J around the World solo next year to publicize his cause: making it legal to drive a truck with only one arm.
May 11, 2004
: The news spreads and "The Earthrounders" grows. We have now just heard from Ed Galkin, who took a Cessna 210 'round in 1988 and is setting off again on his second trip in July. Also heard from Dr. Wolfgang Hamann who flew a Piper Arrow 'round in 1991/92. He is building an
Evolution
for his second trip to start in Sept 2005.
May 10, 2004
: It has recently been brought to our notice that an important lady was missing from our records! In 1948/9, Richarda Morrow-Tait became the first woman pilot to fly around the world (Bruce and Beinhorn had partly shipped their aircraft). She was accompanied by navigators, and completed the voyage in 2 separate aircraft after she crashed the first one in Alaska.
April 27, 2004
:
After 60,000 miles and 357 days POLLY VACHER landed at Birmingham International Airport completing her second RTW after flying over the North Pole. Congratulations Polly!!

http://www.worldwings.org
April 26, 2004
: So far, the pilots setting out to be Earthrounders this year are unconventional. We have 2 microlights well on their way, and a flying boat. Now, a first in the making. Briton Barry Jones (Beej) departs UK today, eastbound, on his bid to become the first person to fly around the world in a gyroplane, (or is it an autogyro or a gyrocopter??)
http.www.globaleagle.co.uk
April 21, 2004
: Resiliant South African microlighters Ricky de Agrela and Alan Honeyborne have finished their reconnaissance of Australia and made it safely back across the Timor Sea into East Timor. Now they head up to the Far East and the Bering Strait. When they complete their flight, they will become the first African Earthrounders.
Stay with them on their brilliant site
http://www.safreedomflight.com/
Meanwhile, Hans Hofmeier was last seen swimming with piranhas up the Amazon - we hope he is ok - and Polly Vacher is almost home, but held up by bad weather in France.
April 19, 2004
: Iren Dornier, grandson of legendary German aircraft designer Claude Dornier, has left Manila on a RTW flight in a D24-ATT seaplane. He plans to take 8 months to complete the voyage, visiting 47 countries.
April 19, 2004
: Earthrounder Steve Fossett has done it again, this time on the crest of a wave. With a crew of 12 on the yacht Cheyenne, he has broken the outright RTW record, non-stop: 58 days, 9 hrs etc... Good on ya, Steve!
April 5, 2004
: Barry Jones is set to depart on 21st April on his attempt to make the first circumnavigation in an autogiro. See:
http://www.globaleagle.co.uk/

March 31, 2004
: Microlight Earthrounder Colin Bodill has been awarded a bronze medal by the Royal Humane Society for his exemplary strength and courage, despite his back injuries, in saving Jennifer Murray after their helicopter crashed in Antarctica. Well done, Colin!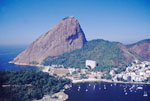 March 22, 2004
: An unusual number of Earthrounders have been to Rio this year, most of them headed to and from Antartica, but
Hans Hofmaier
, currently on the South American stage of his intended RTW flight in a Taylorcraft, enjoyed a unique opportunity. He flew over the city in the the lead T-6 of the colourful Oi Acrobatic threesome. Not many Earthrounders have that under their belt!
Larger photos.
March 11, 2004
: "
Miss Veedol
", a replica of the long distance Bellanca Model J will soon fly around the World in memory of Clyde Pangborn and Hugh Herndon's fligth across the Pacific in 1933.
(For those interested in Panghorn and Herndon's story, Bob Reiss suggests this Site:
http://www.thehistorynet.com/ahi/blfirstacrosspacificnonstop/index.html
)
February 19, 2004
: It has been an exciting season in Antartica this year, and it seems that the inhospitable White Continent has won. After
Polly Vacher
desisted from her aim to make the first solo circumnavigation via the poles,
Jennifer Murray
and
Colin Bodill
left their helicopter on the ice and
Jon Johansen
made it to the South Pole but was beaten back by the winds, American
Gus McLeod
has just made two unsuccessful attempts and also given up for the season.
http://www.gusmcleod.com
February 16, 2004
:
Congratulations to John Coale who arrived in Houston on Feb 15, successfully finishing his RTW
http://www.N30EW.com/
February 14, 2004
: Barry Jones and the Global Eagle Team announce a RTW in a Gyrocopter to start in March 2004.
http://www.globaleagle.co.uk
January 31, 2004
: Ricky De Agrela and Alan Honeyborne of South Africa have started on December 17 their RTW in 2 Ultra lights.
http://www.safreedomflight.com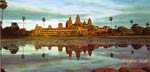 January 23, 2004
: Your faithfull is back from a marvelous trip to Cambodia via Indonesia, Singapore, Malaysia, Thailand. The highlight was the visit of the Angkor Wat Temple but also meeting great people like the 2 "partial RTW", Tom Claytor and Robert Gannon. Also meeting Yeo Meng, Webmaster of Wings over Asia. And a lot of other very interresting people. I am very grateful to all who helped with fuel and to the Singapore Flying Club and the Johor Flying Club. Unfortunately I caught a bout of flu on the way back and I am not totally myself for another day or so. When I am better, I shall write a short report of the trip.
January 4, 2004
: John Coale departed from Houston on January 4 for his RTW with a modified 1976 C210L.
http://www.n30ew.com
January 3, 2004
: As your faithfull Webmaster will be flying in Asia for the next few days, with hopefully a meeting with "partial" Earthrounders Tom Claytor and Robet Gannon, there will be only a few, if any updates, to the Site.
Please keep messages to the Webmaster short and without long attachements. Thank you.